Inspire the Nation. Inspire the World
Destn2Succeed.com: Spotlight Organization! Hope for Haitian Children Foundation
During our travels, we come across organizations that go above and beyond for their community. The Hope for Haitian Children Foundation supports the positive and healthy emotional, educational, medical, and social growth of children through the development of alternative programs that will help guide them on life's journey and prepare them well for their destinations in life.
Please visit www.hopeforhaitianchildrenfoundation.org/
for more information.
Hope for Haitian Children Foundation = Destn2Succeed
Destn2Succeed.com
Many of you are asking yourselves, exactly what is
Destn2Succeed
? It is a term that among other things is meant to motivate, inspire and encourage. As I've reflected on the various chapters of my life, I saw the successes along with the challenges. And because of such events, life taught me the meaning of "course correcting." I have determined that one must first identify the course so that he or she will know what to correct. During the process of studying the path, life has offered me daily road signs. And when I take the time to acknowledge them, they become the flash light of where to step next.
During the process of studying the path, life has offered me daily road signs. And when I take the time to acknowledge them, they become the flash light of where to step next. As I gained more knowledge, the wisdom slowly began to appear. I didn't always have those mentors or books around to help me interpret Life's pathway. It was then, that I started to utilize a three-legged stool approach.
I first started focusing on caring for my physical well-being. I also began taking accountability for my spiritual awareness. I needed to know certain truths first hand. My spiritual life is one that I took ownership of. Finally, I believed that I had to continually develop my mind.
It was because of the constant balancing of this 3 legged approach (faith, physical and mind) that Destn2Succeed found it's way into my life and I believe it will do the same for many today. My hope is that this site will not only make all of us think outside of the box, but outside of the building!
Eugene Wood
Homeless Boy Steals The Talent Show
One cannot help but be moved to tears by this amazing young man; Sung-bong Choi.
When Sung-bong decided to sing on the Talent Show "Korea's Got Talent" he had no idea that he would win the hearts of millions all over the world!
His story of his childhood is so moving that even the judges had a hard time keeping their composure.
Sung-bong Choi = Destn2succeed
You have got what it takes to Succeed
Nick Vujicic = Destn2Succeed
A Kid's Pep Talk To You
We all need a little encouragement every now and then. Kid President, knowing this, has put together a video you can play each morning as you wake up or to share with your friend who needs a kick in the right direction. Take a moment and spread some encouragement.
Kid President = Destn2Succeed
What some view as a challenge... we see as a gift. Destn2Succeed.com
Jason McElwain = Destn2Succeed
Destn2Succeed.com
We love to hear success stories about our family, friends and total strangers. Please feel free to email us any success stories.
info@Destn2Succeed.com
Daily Motivation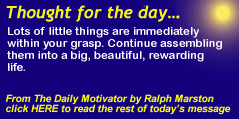 Quotes And Motivation from Ralph Martson
What Does Destn2Succeed® Mean To You?
Let me start off by telling you about a dream I had two weeks ago. I had this same dream for three nights in a row. I knew that there was a great meaning to the message for me. Once I was told the meaning, one part of it really stood out. There are things in our life that look so good and normal and then there are things that are not so good. And that there are those who will try to push me down to their level and stop my success but, I was NOT to allow this to happen. The message was that (I have a choice). So I have chosen to push ahead. I cannot focus on what I see at the moment. My destiny and purpose in life (Vita means Life) is to succeed with wisdom. I will stand strong and know that I have a big hand caring me and holding me up when needed. There is a push and drive in me to succeed and win with the help of God. So, with all that said, I am Destn2succeed. There are doors that will open, all I need to do is step threw them and not look back. I will "Trust in the Lord with all my heart; and lean not to my own understanding. In all my ways I will acknowledge him, and he shall direct my path" Proverbs 3:5-6 -Vita Parker

I love the idea and you are the best person to make to make it happen. I asked my two oldest what their thoughts were on the "Destn2Succeed" Deborah stated that "it means you are gonna exceed, over come" and Hannah said " To win, really want to do something, accomplish something". The baby kept his fingers in his mouth and didn't reply. I am not sure if I can top the words of my daughters, the words Destn2Succeed remind me of the poem by Marianne Williamson Our deepest fear is not that we are inadequate. Our deepest fear is that we are powerful beyond measure" Your words bring forth that type of mindset, the focus and essential of yours words creates a reminder of the love provided by those around us to push us forth, it is the reflection that we sometimes lose sight of. In essence it is the words of our family, the work of our ancestors who set the stage for us, all with the belief that we are Destn2Succeed. Our place on this planet is interweave of efforts of love and faith in our Destiny to succeed. -John Holton

"To me, this phrase infers if given positive support, affirmations and genuine guidance that all youth can succeed. If the persons offering support and guidance truly believe in and want success for the youth, the youth will feel this genuineness and respond accordingly. If the social and cultural wealth of students' experiences and lives are valued as assets (eg. an appreciation of their resiliency despite overwhelming obstacles) as opposed to being viewed as cultural deficits, these students can accomplish most anything and in fact be destined to succeed." -Penny McNeil

You can submit your own quote to be published on the site below. Just enter your name, email, put your quote in the message field, and submit!